What's My Communication Style?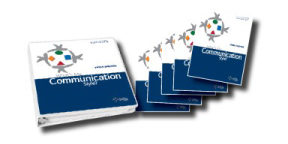 Effective communication skills start with an understanding of personal style. What's My Communication Style? provides insight into our everday communications with others. This assessment is appropriate for individuals at any level in the organization who wants to discover more about themselves and their communication preferences. Individuals identify their preference for one of four communication styles using a 24-item assessment. The facilitator ledprogram then helps participants understand the various forms of communication and learn how to "flex" their own person style. See a PDF preview of this title
Learning Outcomes
There are many benefits to understanding and improving your communication skills through an understanding of style, including:
Pinpointing your own specific communication style and leveraging the associated strengths as well as growth edges

Understanding the 4 forms of communication and how it impacts the behaviour of others

Learning how to "speed read" a person's communication style

Understanding how to "flex" style for effective communication with others
Theory and Development
The power behind
What's My Communication Style?
and the HRDQ Style Series products lies in the simple but effective model for understanding communication behavior.  Based on the proven personality theories of Marston and Jung, the model identifies two basic dimensions of personal style:  Assertiveness and Expressiveness.  Assertiveness is the effort a person makes to influence or control the thoughts or actions of others. Expressiveness is the effort that a person makes to control his or her emotions and feelings when relating to others.  Combining the two dimensions results in a four-quadrant model with four unique personal styles: 
Direct, Spirited, Considerate, and Systematic
.  The simplicity of the HRDQ Style Model is easy for trainers to facilitate and memorable for employees and managers to apply.
What's My Communication Style?
is appropriate for anyone to use for both personal and management development. 
The assessment can be used as a standalone training assessment, or it can be incorporated into a more comprehensive training program on communication skills.
  It makes an effective foundation component for a variety of soft skills training topics, including communication, leadership, team building, and supervisory skills. Order the
What's My Communication Style?
starts with a skills assessment that takes approximately 10 minutes to complete.  Individuals respond to 24 different items relating to both verbal and nonverbal communication by selecting the statement ending that they believe best reflects their perceived communication behavior.  Scoring the responses provides individuals with a total score for each of the four personal communication styles: Direct, Spirited, Considerate, and Systematic.  The majority of individuals will show a clear preference for one of styles, which is their Dominant Style.
If you are planning to use the assessment for classroom training, we recommend you allow approximately 1 hour for interpretation of scores, topic discussion, debrief, and action planning.  The
What's My Communication Style
Facilitator Guide includes everything you need to lead a successful training session from comprehensive background information and activities, to reproducible handouts and even a professional PowerPoint presentation.  The Facilitator Guide also offers an easy-to-follow workshop outline that expands What's My Communication Style into a 1.5-hour program.
What's My Communication Style?
is available in both Online and Print Versions.
The Online Version is an excellent choice for enterprise-wide training or audiences that are geographically dispersed. It offers 24/7 access, streamlined distribution, and instant scoring. Each Online Assessment includes personalized reporting, full-color charts, interpretive information, worksheets, and action planning.
The Print Version is ideal for facilitators who prefer to oversee scoring and administration of the assessment, if you don't know who the participants will be before the class begins, or if your learners do not have easy access to computers. Includes pressure-sensitive forms for scoring to aid manual tabulation. The accompanying Participant Guide includes interpretive information, worksheets, and action planning.
Initial Rollout

You will need to order a Facilitator Guide per trainer and either 1 Print Participant Guide or 1 Online Assessment for each individual learner. The Starter Kit is a great way to begin your rollout and includes a Facilitator Guide and 5 Print Participant Guides or 5 Online Assessments. Additional Participant Guides or Online Assessment credits may be purchased separately. Purchasing all of the participant materials you need at one time may qualify you for quantity discounts that can save you money and simplify ordering.
_____________________________________________________________________________________