Workshops & Assessments
Activities
Reproducible Programs
People Skills for Better Leadership
Society today is more complex than ever before. Technology is evolving and people's expectations of leaders have shifted along with other societal changes.
The old school style of leadership was to tell people what to do and to have all the answers. It was a patriarchal approach that often included intimidation, control of information, and manipulation. People no longer respond to this outdated approach.
A leader's job is growth—to develop the company and develop the employees. Leaders must have an exact combination of knowledge and personality to be successful. True leadership is developed and refined over time; it does not come with a job title, family name, or appointment. Impactful leaders have a murky mix of skills—the key is that they can readily adapt to multiple situations.
4D Training Resources provides organizations interested in improving their leadership capability with a variety of options:
Resources for Internal Trainers/Facilitators
You're an experienced facilitator and looking for ways to introduce an experiential component to an existing program or you would like to introduce a new program. We have solutions ranging from quick profile assessments to one - three hour workshops or multi-day programs. All assessments and workshops come complete with Facilitator Guide, PowerPoint slides, as well as a Takeaway Participant Guide.
Experienced External Facilitators
You're responsible for developing people within your organization. You see a fit with a specific program or set of programs offered by 4D Training Resources and a desired outcome. Your preference is to bring a facilitator experienced in delivering these programs into your organization.
Custom Course Design
Your charged with identifying opportunities to achieve organziational goals through development of its human resources. You would like to use one of these programs as a foundation for building an internal training intitiative.
If one of these options describes your needs, call us at 1-800-257-4916.
Leadership - Assessments/Workshops
Off-the-Shelf or Facilitator-led
Responsive Leader Questionnaire and Capability Inventory
A situational leadership assessment for management development training. It measures current skill in managing employees and improves leadership effectiveness by developing supervisory skills, leadership skills, coaching skills, and the ability to motivate employees.
What's My Leadership Style? Assessment
Helps participants learn their preference for one of four styles and find out how to adapt each style to different situations. Ideal for training anyone who needs to influence others towards achieving a goal.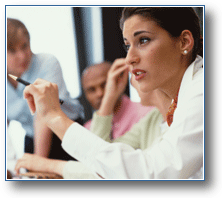 Influencing with Assertive Communication (One-Day Program)
From resolving misunderstandings with teammates to negotiating the terms of a contract, we're all faced with the need to influence others.  But mastering the skill of assertive communication takes time and practice. Influencing with Assertive Communication is a one-day program aimed at developing the skills individuals need to express themselves directly and honestly, while preserving relationships and respecting the rights of others.
CoachingAchievement One-Day Program
Helps managers and leaders to become effective on-the-job coaches. This one-day program enhances their skills at developing and maintaining effective coaching relationships in order to improve the performance and growth of others. Participants first assess their performance in 5 key coaching skills and then learn how to apply these skills to a unique 3-step coaching process. Best of all, coaches practice their skills using 3 actual coaching challenges, so they leave with the ability and confidence to put their knowledge into immediate action!
Mars Surface Rover Game - Leadership
Illustrate the concept of facilitative leadership and its benefits - a team atmosphere of trust, respect, open communication, and productivity.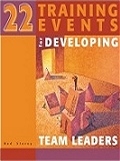 22 Training Events For Developing Team Leaders
For many team leaders, leadership can seem like an intangible, unattainable skill — one that's best left to those at the top of the organization. But in reality, leadership takes place at many different levels, from strategic directors to team and project leaders.
Complete training materials in a customizable, reproducible file format. Introducing the Reproducible Training Resource Library, a collection of customizable and reproducible programs. Each program comes ready to train, complete with a Participant Guide, Facilitator Guide, and PowerPoint® presentation. Titles are half to full-day programs on the topics you need to deliver today. The simple click-thru license agreement allows you to use the content within your organization on an unlimited basis. Buy any individual program for $399 or all 80 programs for $7,500. Learn more about these Reproducible Training Programs or call 1-800-257-4916 to order.
Leading Today's Workforce: A Step-by-Step Guide to Building Leadership Skills (1 Day Program)
Being a manager and being an effective leader are very different skill sets. This course will help you learn what the biggest differences are between managers and leaders, how to put the leadership building blocks into place and how to adapt the language of influence.

Increasing Your Emotional Intelligence (1/2 Day Program)
This program offers you techniques to increase and develop your emotional intelligence. It guides you through proven methods to apply emotional intelligence in the workplace to enhance employee relationships and increase productivity.