Workshops & Assessments
Activities
Reproducible Programs
Deal with Conflict...Now!
It is the responsibility of an organization's leaders to ensure a work environment that enables people to "do their best" has been created. Conflicts, disagreements and differences in opinion can quickly escalate into a situation that is unmanageable. Intervention should be decisive and immediate. If conflict is not handled effectively then competing goals can quickly turn into personal dislike; teamwork grinds to a halt; talent is tossed out the door as people disengage from their workplace activities and responsiblities.
It's easy to end up in a vicious downward spiral of bitterness and animosity.
If you're to keep your team or organization working effectively, you need to stop this downward spiral as soon as you can.
4D Training provides organizations interested in improving conflict resolution skills of their employees with a variety of options:
Resources for Internal Trainers/Facilitators
You're an experienced facilitator and looking for ways to introduce an experiential component to an existing program or you would like to introduce a new program. We have solutions ranging from quick profile assessments to one - three hour workshops or multi-day programs. All assessments and workshops come complete with Facilitator Guide, PowerPoint slides, as well as a Takeaway Participant Guide.
Experienced External Facilitators
You're responsible for developing people within your organization. You see a fit with a specific program or set of programs offered by 4D Training Resources and a desired outcome. Your preference is to bring a facilitator experienced in delivering these programs into your organization.
Custom Course Design
Your charged with identifying opportunities to achieve organziational goals through development of its human resources. You would like to use one of these programs as a foundation for building an internal training intitiative.
If one of these options describes your needs call us at 1-800-257-4916.
Conflict Resolution Skills - Assessments/Workshops
Off-the-Shelf or Facilitator-led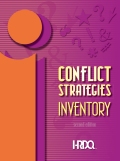 Conflict Strategies Inventory, Second Edition
Can be used for a 2 hour workshop and/or individual feedback
Gives participants valuable insights into how they handle conflict situations. The assessment measures 5 basic conflict strategies: Avoiding, Smoothing, Competing, Compromising, and Integrating. Presented with 10 short cases of typical work-related conflict, participants choose the actions they are most likely to take — actions that are indicative of 5 basic conflict strategies.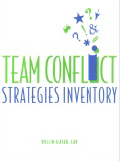 Team Conflict Strategies Inventory
Can be used for a 2 hour workshop and/or individual feedback
Presents teams with 5 typical conflict scenarios. Administered in two phases, team members are first asked to predict individually how their team would handle each situation by ranking strategy alternatives. Then, the team as a whole comes together to try to reach consensus on the items. This approach allows individual team members to share their perceptions and come to conclusions about common strategies employed by the team.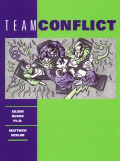 TeamConflict
Can be use for a 2 hour workshop and/or individual feedback
Designed to give team members insights into how their behaviors determine the outcome of conflict and how they can change those behaviors to be more productive.
Nothing available at this time
Complete training materials in a customizable, reproducible file format. Introducing the Reproducible Training Resource Library, a collection of customizable and reproducible programs. Each program comes ready to train, complete with a Participant Guide, Facilitator Guide, and PowerPoint® presentation. Titles are half to full-day programs on the topics you need to deliver today. The simple click-thru license agreement allows you to use the content within your organization on an unlimited basis. Buy any individual program for $399 or all 80 programs for $7,500. Learn more about these Reproducible Training Programs or call 1-800-257-4916 to order.

Challenging Negative Attitudes
Learn how negative norms become entrenched in an organization, department or team and how to create a more positive working environment.
Today's generationally-diverse workforce is an asset, bringing a variety of skills, knowledge, and experience to the organization. However, finding ways to connect effectively with the various generations within the workplace can be challenging.

Dirty Little Secrets that Negatively Affect the Workplace (1 Day Program)
Do you ever wish training would address what really goes on at work? The people problems that nobody wants to talk about? The people who create obstacles, or are obstacles themselves that prevent you from doing your best work. This program confronts those people problems head-on and gives you solutions and strategies for staying positive and productive among "toxic" people and situations.
Dealing With Difficult Conversations (1/2 Day Program)
A difficult conversation doesn't need to become an ugly confrontation. Dealing With Difficult Conversations, the newest title in the HRDQ Reproducible Program Library, can help you better prepare for communicating under tough circumstances to make your message more effective, help you better control the situation, and achieve a positive outcome.
Resolving Conflict at Work: Improving Workplace Relationships (1/2 Day Program)
This half-day program explores various work relationships and their impact on the employee, how business relationships can be managed to avoid unnecessary conflict, how to use effective resolution steps when conflict occurs, and how to deal with difficult people when managing conflict.