Influencing with Assertive Communication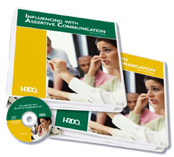 Although we may not always be consciously aware of it, we all routinely communicate with the goal of influencing other people. From the simplest task of resolving a small misunderstanding, to the more complex task of negotiating the terms of a deal, we utilize a variety of communication strategies aimed at influencing others. During this program, you will learn that assertive communication is the most effective way to influence others because it encourages an honest sharing of information while respecting the needs of both parties.
The ability to communicate assertively requires a great deal of self-awareness and control, which is not always easy to maintain. The good news is that there are specific communication strategies you can learn that will help you become a more assertive communicator. The overall goal of this program is to develop your ability to influence others in the workplace through assertive communication. Improving your use of these important skills will help you be more successful in reaching your goals while maintaining the respect of your colleagues.
Learning Outcomes  
Experience the costs and benefits of different influence styles
Identify personal influence style
Discover why an assertive communication style is most effective
Understand the ASERT communication process
Learn strategies for analyzing situations and stating your position
Evaluate the importance of non verbal communication and its impact
Explore strategies for handling feedback
Practice techniques used by assertive communicators
Master the ASERT communication process
Program Agenda
What Does It Mean to Influence Others?
Influence Assessment
Communication Game
Interpersonal Influence Model
The ASERT Process
Analyzing the Situation
Stating Your Position
Nonverbal Communication
Receiving Feedback
Test for Understanding

ASERT in Action

My ASERT Commitment
What to Order
To get started, order one Facilitator Kit per trainer and one Participant Guide per participant. Each kit contains a comprehensive Facilitator Guide, plus enough reusable facilitator support materials to train up to 25 participants at one time. Participant Guides are sold separately. For larger groups, order additional Participant Guides and facilitator support materials.
Facilitator Kit includes:
Facilitator Guide

Game

Reusable facilitator support materials to train up to 25 participants at one time

Tote Bag
Facilitator Guide includes:
Administrative guidelines 

Theoretical background 

Assessment 

Activities 

Description of The Collaborative Negotiating Process model 

Experiential learning/training methodology 

Training design options 

Blank training outline 

Participant Guide content (incorporated into Facilitator Guide) 

CD-ROM containing Microsoft® PowerPoint® presentation and reproducible masters, including a Certificate of Achievement, Training Evaluation, and overhead transparency masters
Participant Guide includes:

Assessment

Pressure-sensitive response form 

Interpretation of assessment results 

Game scenario description and discussion questions 

Description of the Collaborative Negotiation Process model 

Self-reflection questions and skill practice activities 

Action planning
Time Required:
One day or two half days
Related Assessments and Workshops
Interpersonal and Communication Skills > Course 2016 - Building the Communication Bridge
Interpersonal and Communication Skills > Course 2017 - What's My Communication Style?
Interpersonal and Communication Skills > Course 2018 - Interpersonal Influence Inventory
Interpersonal and Communication Skills > Course 2019 - Learning to Listen, 2nd Edition
Interpersonal and Communication Skills > Course 2020 - Neuro-Linguistic Communication Profile
Interpersonal and Communication Skills > Course 2021 - Presentation Skills Profile
Interpersonal and Communication Skills > Course 2022 - Emotional Intelligence Skills Assessment
Related Reproducible Training Library Titles
Interpersonal and Communication Skills > Course 2050 - Communication Skills for Emerging Leaders
Interpersonal and Communication Skills > Course 2051 - The Art and Science of Communication
Interpersonal and Communication Skills > Course 2052 - Communication Skills for Tech Professionals
Interpersonal and Communication Skills > Course 2053 - The Art of Effective Communication
Interpersonal and Communication Skills > Course 2054 - Fundamentals of Effective Facilitation
Interpersonal and Communication Skills > Course 2055 - The Art of Influencing Others
Interpersonal and Communication Skills > Course 2056 - Giving and Receiving Feedback
Interpersonal and Communication Skills > Course 2057 - The Communication Mystery: Solved Interpersonal and Communication Skills > Course 2058 - Supervisor Communication Skills