Leading Through Change (1 Day Program)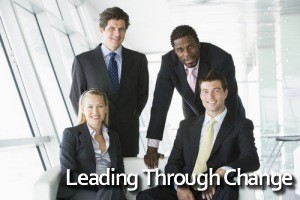 Register for an In-house Session
or
Change management is the art and science of guiding an organization and its people through the predictable transitions from current reality to a preferred future position. Change manifests in various forms with diverse results and emotions, but there are two things that you can count on: Change won't go away; it will only increase and you and the people around you need to learn to embrace change. In this program you will taught identify different reactions to change so that you will be better prepared to help employees through it. You will design a plan to help others through change and apply that plan by aligning systems and structures within your organization to better meet the needs of employees experiencing change.
Course Objectives
Successful completion of this course will increase your knowledge and ability to:
Define what change looks like and feels like
Identify different reactions to change and evaluate how the change will affect people in your organization
Recognize change resistance and explore various sources of resistance
Recognize the eight mistakes organizations make during change
Evaluate and compare the various roles of team leaders
Develop commitment strategies to change
Design the elements of a change communication plan
Align systems and structures to the change
Identify the characteristics of bounce-back people and organizations
This program comes ready-to-deliver and includes a Facilitator's Guide, Participant Guide and PowerPoint presentation. or call us at 1-800-257-4916 if you would like to explore working with one of our facilitators.
The Reproducible Training Library comes in half-day to multi-day formats. Select the individual titles you need, choose from pre-selected topic series, or purchase the entire collection to own the ultimate training library. Each program comes ready to train with printable Participant Guides, an easy-to-use Facilitator Guide, and a Microsoft PowerPoint presentation. Most programs include additional content such as quick reference cards. That's not all - they're fully customizable, so you can add your company brand, tailor the content to your specific industry or organizational needs, and print on demand.
Related Assessments and Workshops