Neurolinguistic Communication Profile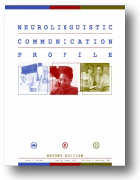 The Neurolinguistic Communication Profile is an NLP communication assessment that improves interpersonal skills and identifies a preference toward auditory, visual, or kinesthetic sensory channels used to filter and communication information.
Neuro-linguistic Communication Profile Second Edition
. Sight, sound, or touch?  Developing an awareness of your preference and those of others can improve communication skills dramatically.  This assessment helps to
improve on-the-job communication skills
, interpersonal relationships, and productivity using the powerful model of Neurolinguistic Programming™, also referred to as NLP.  Individuals identify an unconscious preference toward one of three sensory channels used in filtering and communicating information: Auditory, Visual, or Kinesthetic. 
By analyzing communication preferences, individuals are able to determine the relative strengths and weaknesses of their own communication styles and therefore develop strategies to increase flexibility and build rapport with others.
Learning Outcomes
Identify personal communication preference

Recognize communication preferences of others

Communicate more effectively with others who have different communication preferences

Discover how to increase productivity, motivation, and the accurate exchange of information

Gain flexibility in striving to match another person's communication style
Theory and Development
The Neurolinguistic Communication Profile helps individuals discover and be consciously aware of the ways of communicating and dealing with information.  Knowing this preference enables individuals to learn how to adjust behavior to match or fit another person's preferred modes.
One of the premises for NLP is that each of us filters our communication and thinking in systematic and learnable ways.  Research shows that this filtering process occurs during sensory intake. Each of us has a preference for taking in information, organizing it in our heads, and communicating information to others around us. This preference is based on the habitual and systematic use of our primary sense organs — literally our eyes, ears, and body.

The model of neurolinguistic communication in the NCP identifies preferences along three dimensions:
Preferred Sensory Modality
Preference for taking in and attending to sensory information:  Visual, Auditory, or Kinesthetic
Preferred Thinking Style Way of organizing sensory information in your head or mind: Serial or Parallel
Way of organizing sensory information in your head or mind: Serial or Parallel
Preferred Mode of Expression
One's predominant preference for expressing and producing sensory information: Visual, Auditory, or Kinesthetic
Uses for the Assessment
Can be used as a standalone training instrument, or it can be incorporated into a more comprehensive program on communication or leadership.  It also makes an effective component in training programs for a variety of topics, including coaching, management, and supervisory skills.
How It Works
The
Neurolinguistic Communication Profile
starts with a self assessment that takes approximately 20 minutes to complete.  Individuals respond to 65 items relating to communication. The result are scores in each of the three dimensions: Preferred Sensory Modality, Preferred Thinking Style, and Preferred Mode of Expression.  Combining these results produces an Overall Communication Profile.
If you intend to use the Neurolinguistic Communication Profile in a classroom training session, we recommend you allow approximately 90 minutes for interpretation of scores, topic discussion, debrief, and action planning.  The Neurolinguistic Communication Profile Facilitator Guide includes everything you need to lead a successful training session from comprehensive background information and activities, to reproducible handouts and even a professional PowerPoint presentation.  The Facilitator Guide also offers an easy-to-follow workshop outline that expands the Interpersonal Influence Inventory into a half-day program.
What to Order
The Neurolinguistic Communication Profile is available in both Online and Print Versions.
The Online Version is an excellent choice for enterprise-wide training or audiences that are geographically dispersed. It offers 24/7 access, streamlined distribution, and instant scoring. Each Online Assessment includes personalized reporting, full-color charts, interpretive information, worksheets, and action planning.

The Print Version is ideal for facilitators who prefer to oversee scoring and administration of the assessment, if you don't know who the participants will be before the class begins, or if your learners do not have easy access to computers. Includes pressure-sensitive forms for scoring to aid manual tabulation. The accompanying Participant Guide includes interpretive information, worksheets, and action planning.
Initial Rollout

Order 1 Facilitator Guide per trainer and either 1 Print Participant Guide or 1 Online Assessment for each individual learner. The Starter Kit is a great way to begin your rollout and includes a Facilitator Guide and 5 Participant Guides. Additional Participant Guides or Online Assessment credits may be purchased separately. Purchasing all of the participant materials you need at one time may qualify you for quantity discounts that can save you money and simplify ordering.