Workshops & Assessments
Activities
Reproducible Programs
Provide Your Staff with the Skills Needed to Achieve Team Goals
There was a time when "team building" was all the rage. Each team spent a great deal of time, energy and effort clarifying goals, developing a team charter and establishing operating principles — that is, working on the process of being a team as much as any task itself.
Frankly, there is much less time for this in today's work world. While most work is still accomplished by groups of people, these groups do not have luxury for as much self-examination.
It remains essential however, that each member clearly understands the goal. Our workshops are designed to help teams fine-tune their efforts to become stronger, adaptable, and more effective.
4D Training Resources provides organizations interested in improving employee teamwork and collaboration with a variety of options:
Resources for Internal Trainers/Facilitators
You're an experienced facilitator and looking for ways to introduce an experiential component to an existing program or you would like to introduce a new program. We have solutions ranging from quick profile assessments to one - three hour workshops or multi-day programs. All assessments and workshops come complete with Facilitator Guide, PowerPoint slides, as well as a Takeaway Participant Guide.
Experienced External Facilitators
You're responsible for developing people within your organization. You see a fit with a specific program or set of programs offered by 4D Training Resources and a desired outcome. Your preference is to bring a facilitator experienced in delivering these programs into your organization.
Custom Course Design
Your charged with identifying opportunities to achieve organziational goals through development of its human resources. You would like to use one of these programs as a foundation for building an internal training intitiative.
If one or more of these options describes your needs, call us at 1-800-257-4916.
Teamwork & Collaboration Skills - Assessments/Workshops
Off-the-Shelf or Facilitator-led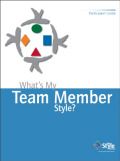 What's My Team Member Style?
Help team members learn how to contribute to team success. Based on the theories of Marston and Jung, What's My Team Member Style reveals how individuals typically behave on a team and their preference for one of 4 team member styles.
Emotional Intelligence Skills Assessment
Designed for management development training, the EiSA measures adult emotional intelligence on five scales: Perceiving, Managing, Decision Making, Achieving, and Influencing. The EiSA can be used as a standalone training resource or powerful complement to address leadership development, team building, and communication effectiveness.

Using experiential tools that include learning instruments, hands-on activities, and an interactive team simulation, teams gain a clearer sense of direction, clarify roles and responsibilities, improve operating processes, and bolster both interpersonal and interteam relationships.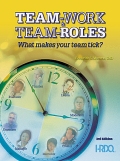 Team-Work and Team-Roles - What makes your team tick?
Pinpoints which phases of group work interest your teams most and identifies the behavioral roles team members habitually play or ignore.
Great teams don't just happen. Authentic teamwork is built upon true commitment, trust, collaboration, and competence - qualities that can only be developed with considerable effort over time.

For more than 15 years, the Team Effectiveness Profile has helped teams eliminate or reduce blockages in the 5 vital areas of team activity: Mission, Vision, and Goals; Team Roles; Operating Processes; Interpersonal Relationships; Interteam Relationships.
Creating an Emotionally Intelligent World: A Computer-Based Game For Teams
A computer-based management development training game for teams, employees, leaders, and managers to learn and practice emotional intelligence skills for better communication, leadership, decision making and interpersonal relationships.
Maestro - The Team Performance Game
Play out vital team skills such as leadership, creative problem-solving, planning, and communication, with our newest game, Maestro: The Team Performance Game.
Black Bear - Team Adventure Simulation
Illustrate the concept of team synergy with Black Bear, a challenging adventure simulation that addresses formulating a strategy under pressure and consensus decision making.
Time Required: 1 1/2 hours
Outcome Focus: Formulating strategy under pressure, consensus decision making

Swamped - Team Adventure Simulation
Deep in the northern wilderness, a leisurely canoe trip almost ends tragically when your group capsizes into icy, windswept waters. A lively simulation, Swamped helps individuals work together to rank 10 salvaged items for survival. The perfect team-builder for any organization.
Time Required: 2 hours
Outcome Focus: Icebreaker, managing group conflict, consensus decision making
Outback - Team Adventure Simulation
Treat teams to the exotic, eerie beauty of the Australian bush country. In Outback, your group is lost in unknown territory and mus rank alternatives as well as daypack items as members practice leadership, communication and problem-solving skills.
Time Required: 2 hours
Outcome Focus: Concensus decision making, problem solving, team leadership, communication.

Whiteout - Team Adventure Simulation
A dog sledding adventure in Alaska turns perious when your team is caught in an unexpected blizzard. Can you overcome interpersonal conflicts to save yourselves and your two hypothermic team members?
Time Required: 2 hours
Outcome Focus: Conflict Resolution
Cave Without a Name - Team Adventure Simulation
Can your team endure the terror of being trapped in the unexplored passageways of the Cave Without a Name? This simulation develops a full range of group-process skills, including consensus decision making, problem solving, conflict resolution, communication and team leadership.
Time Required: 1 1/2 to 2 hours
Outcome Focus: Managing group conflict, consensus decision making, problem solving.
Vacation in the Keys - Team Adventure Simulation
On the deck of your chartered fishing boat, someone turns the ignition key — and a powerful explosion blows the boat apart. Can your group survive its ill-fated Vacation in the Keys? Fine tune your team's ingenuity and cohesiveness with this high-energy exercise.
Time Required: 2 hours
Outcome Focus: Consensus decision making, energizer/icebreaker
Beyond the Valley of the Kings - Team Adventure Simulation
In Egypt, a hot-air balloon tour ends in trauma when it crash-lands in the endless white sands of the Sahara desert. Ranking salvaged items as well as actioned alternatives, groups must think quickly in an urgent, high stakes situation. Perfect for strategic planning teams.
Time Required: 2 1/2 hours
Outcome Focus: Decision making under pressure, team building
Marooned - Team Adventure Simulation
A pleasure cruise along the French Polynesian islands goes sour when your group is stranded on a deserted, nameless island. Your task: rank the 10 action alternatives that will best ensure the team's survival. Marooned works perfectly as a fun and instructive icebreaker.
Time Required: 1 1/2hours
Outcome Focus: Consensus decision making, energizer/icebreaker

Grand Canyon Adventures Package: DVD Version
The Grand Canyon Adventures package is a series of team building simulations. The package includes interrelated activities on problem solving, collaboration, crisis management, and consensus decision making simulation. These team building activities are extremely flexible. Use all nine of these video management training activities with your entire team, or split up your group to focus on individualized team building skill development with a single activity.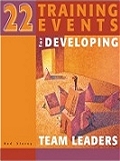 22 Training Events for Developing Team Leaders
For many team leaders, leadership can seem like an intangible, unattainable skill — one that's best left to those at the top of the organization. But in reality, leadership takes place at many different levels, from strategic directors to team and project leaders. And the common denominator is a set of key recognizable skills that any leader can learn, practice, and develop.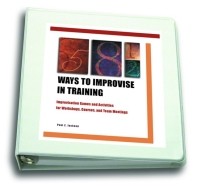 58 1/2 Ways to Improve Your Training
From icebreakers and discussion starters to case studies and workshops, HRDQ Activities, are a great way to enhance your curriculum and infuse energy into your classroom activity.
Complete training materials in a customizable, reproducible file format. Introducing the Reproducible Training Resources Library, a collection of customizable and reproducible programs. Each program comes ready to train, complete with a Participant Guide, Facilitator Guide, and PowerPoint® presentation. Titles are half to full-day programs on the topics you need to deliver today. The simple click-thru license agreement allows you to use the content within your organization on an unlimited basis. Buy any individual program for $399 or all 80 programs for $7,500. Learn more about these Reproducible Training Resources.

Cross-Functional Teams (1/2 Day Program)
This course will make the exchange of information much easier. You will learn how to lay the groundwork, the best way to build and shape a team, how to get the work accomplished and ways to evaluate performance.
Defining Team Roles and Responsibility (1/2 Day Program)
This program helps ensure that every team operates at its highest potential by defining the team vision and mission, creating a mission critical action plan, establishing clear roles and expectations for individuals and obtaining unconditional commitment and accountability from every team member
Managing Remote Teams (1/2 Day Program)
This program addresses the special considerations of managing geographically dispersed teams, including establishing expectations for completing work and meeting deadlines, maintaining regular contact, legal and safety issues for employees working out of the office, and tips for long-distance coaching and motivation.

Managing Teams
This program gives you the tools to help ensure that your team runs efficiently while maintaining a high level of motivation and satisfaction among individual team members.

The Team Foundation (1/2 Day Program)
This course provides a solid base for making the most of teams by looking at how to create the appropriate type of team to accomplish a particular task, how to prepare employees for the different stages of team development they will experience as their teams mature, and how to change organizational systems and structures in order to create a culture that supports teams.
Team Building (1/2 Day Program)
In this program you will learn skills to communicate more effectively, minimize misunderstandings and conflict, and build your sense of value. You will create a team mission statement, ground rules and a plan to foster trust and morale that will lead your team to success.