TEAMPOWER Program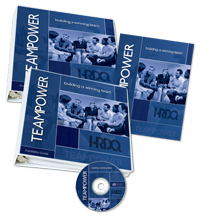 Great teams don't just happen. Authentic teamwork is built upon true commitment, trust, collaboration, and competence - qualities that can only be developed with considerable effort over time. TEAMPOWER accelerates the process, helping teams transform from ordinary to extraordinary. This comprehensive and interactive program provides in-depth skill development in the vital areas needed for effective performance, including group development, team roles and responsibilities, problem solving, group decision making, communication, and managing conflict. Teams emerge from the learning experience with a fresh sense of direction and practical strategies for working together better.
Learning Outcomes
Acquire and develop group process skills
Learn how to encourage innovation and implement new work strategies
Understand how to communicate and collaborate
Unearth and work to resolve blockages to team performance
Discover how to boost team spirit, camaraderie, and commitment
Develop strategies to improve productivity and work satisfaction
With TEAMPOWER, you'll get all the materials you need to conduct a powerful learning event — from pre-work to participant and facilitator support materials. Every HRDQ Program offers just the right mix of interactive tools, helping participants learn compelling concepts, reflect on relevant experiences, and practice new skills.
Facilitator Kit includes:
Facilitator Guide
PowerPoint CD-Rom
Support Materials for 3 teams of 4-7 participants.
Participant Kit includes:
Pre-work
Participant guide
Pen
Name tent
Certificate
Facilitator Guide includes:
Administrative guidelines
Theoretical background 2 learning instruments
Business simulation
Activities Experiential learning/training methodology
Training design options
Blank training outline
Participant Guide content (incorporated into Facilitator Guide)
PowerPoint® presentation and reproducible masters
Certificate of Achievement
Training Evaluation
Participant Guide includes:
Three-ring binder
Two learning instruments
Business simulation activity
Pressure-sensitive response forms
Interpretation of instrument results
Self-reflection questions
Action planning