Workshops & Assessments
Activities
Reproducible Materials
4D Training Resources provides organizations interested in improving supervisory skills with a variety of options:
Resources for Internal Trainers/Facilitators
You're an experienced facilitator and looking for ways to introduce an experiential component to an existing program or you would like to introduce a new program. We have solutions ranging from quick profile assessments to one - three hour workshops or multi-day programs. All assessments and workshops come complete with Facilitator Guide, PowerPoint slides, as well as a Takeaway Participant Guide.
Experienced External Facilitators
You're responsible for developing people within your organization. You see a fit with a specific program or set of programs offered by 4D Training Resources and a desired outcome. Your preference is to bring a facilitator experienced in delivering these programs into your organization.
Custom Course Design
Your charged with identifying opportunities to achieve organziational goals through development of its human resources. You would like to use one of these programs as a foundation for building an internal training intitiative.
If one of these options describes your needs, call us at 1-800-257-4916.
Supervisory Skills - Assessments/Workshops
Off-the-Shelf or Facilitator-led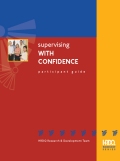 Supervising With Confidence Program
The role of supervisor has changed dramatically through the evolution of the organization. Supervising with Confidence gives supervisors practical training for today's on-the-job challenges. The complete and ready-to-train workshop provides the rare opportunity to examine skill strengths and development areas as well as practice strategies, all in a safe learning environment.
Stepping Up: A Road Map for New Supervisors
Present new and aspiring supervisors with an accurate and realistic picture of what it really means to be a supervisor. Stepping Up provides you with everything you need to implement an effective one-day workshop. Supervisors learn about the expectations, skills and knowledge required of them, and how to successfully manage others.

Supervisory Skills Questionnaire
A comprehensive and practical assessment tool that helps supervisors to focus on the 5 most critical skills for effective supervision: Guiding the Work, Organizing the Work, Developing Your Staff, Managing Performance, and Managing Relations.
Download - Customize - Reproduce
Affordable Materials for Soft Skills Training
Complete training materials in a customizable, reproducible file format. Introducing the Reproducible Training Resource Library, a collection of customizable and reproducible programs. Each program comes ready to train, complete with a Participant Guide, Facilitator Guide, and PowerPoint® presentation. Titles are half to full-day programs on the topics you need to deliver today. The simple click-thru license agreement allows you to use the content within your organization on an unlimited basis.
Buy any individual program for $399 or all 80 programs for $7,500. Learn more about these Reproducible Training Programs or call 1-800-257-4916 to order.
Supervisor Communication Skills (1 Day Program)
In this course you will learn the importance of assertive speaking; asking directly for what you need from others without being aggressive. You will discover techniques for holding others accountable while also create and practice the art of equitable compromise.

Supervising in an Automated Environment (1/2 Day Program)
This course provides strategies for balancing computer-based documentation and reporting with the face-to-face coaching and encouragement your employees need to do their best work.