Supervisory Skills Questionnaire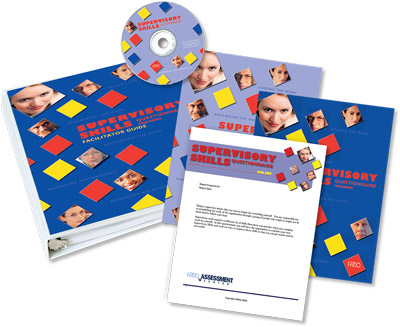 Supervisory Skills Questionnaire is a management development assessment for supervisory skills training.  Measures supervisory skills and improves management skills for supervisors, managers, and leaders.
The best employees don't always make the best supervisors. At least, not without the proper training. New supervisors can be overwhelmed by the often-conflicting demands of customers, management, and their coworkers-turned-employees.
The Supervisory Skills Questionnaire is a comprehensive and practical assessment tool that helps supervisors understand how they rate against 5 skills critical for effective supervision: Guiding the Work, Organizing the Work, Developing Your Staff, Managing Performance, and Managing Relations.

Learning Outcomes
Identify skill strengths and weaknesses

Improve proficiency in 5 key skill areas

Learn which actions every supervisor should avoid

Understand the keys to effective planning, prioritizing, and delegating

Build productive relationships with other work groups
Theory and Development

The research on effective supervision identifies numerous skills that a supervisor should possess. The Supervisory Skills Questionnaire organizes these skills into 5 categories:

1. Guiding the Work
Taking the direction of the organization and translating it into actionable plans for the work group.

2. Organizing the Work
Assigning people, equipment, and tasks to meet work goals.

3. Developing Your Staff
Actively working to increase the skill level of each employee being supervised.

4. Managing Performance
Removing the obstacles to better performance so employees can meet their own and the organization's objectives.

5. Managing Relations
Developing and maintaining good relationships with other groups so that the supervisor's employees and the organization meet their goals. The ability to balance the goals of the organization with the needs of the work group is the common thread that runs through all of the skill dimensions.
Perfect for both individual and group supervisory training, the Supervisory Skills Questionnaire can be particularly helpful in surfacing issues within existing situations. Some appropriate uses include:
Prepare new supervisors for their changing roles and responsibilities

Gauge an individual's degree of readiness for a supervisory position

Centerpiece of a comprehensive supervisory training program

Refresher course for more experienced supervisors

Mentoring tool for experienced supervisors to discuss situations with new supervisors

Discussion starter in any supervisory training

Post-training assessment tool
How It Works
Supervisors respond to 30 everyday situations, choosing one of 3 possible response actions. Their responses reveal a score in each of five supervisory-skill areas, as well as an overall supervisory score.
The Supervisory Skills Questionnaire also offers a peer feedback component that reveals how the supervisors' employees view them. With this information, individuals are able to create an action plan to maximize strengths and develop skills in their weakest dimensions.
If you plan to use the Supervisory Skills Questionnaire for classroom training, we recommend you allow approximately 1 hour for interpretation of scores, topic discussion, debrief, and action planning. 
The Supervisory Skills Questionnaire Facilitator Guide includes everything you need to lead a successful training session from comprehensive background information and activities, to reproducible handouts and even a professional PowerPoint presentation.  The Facilitator Guide also offers an easy-to-follow workshop outline that expands the Supervisory Skills Questionnaire into a 2.5-hour program.

What to Order
The Supervisory Skills Questionnaire is available in both Online and Print Versions.
The Online Version is an excellent choice for enterprise-wide training or audiences that are geographically dispersed. It offers 24/7 access, streamlined distribution, and instant scoring. Each Online Assessment includes personalized reporting, full-color charts, interpretive information, worksheets, and action planning.
The Print Version is ideal for facilitators who prefer to oversee scoring and administration of the assessment, if you don't know who the participants will be before the class begins, or if your learners do not have easy access to computers. Includes pressure-sensitive forms for scoring to aid manual tabulation. The accompanying Participant Guide includes interpretive information, worksheets, and action planning.

Initial Rollout

You will need to order a Facilitator Guide per trainer and 1 Print Participant Guide or 1 Online Assessment for each individual learner.  If you plan to incorporate peer feedback into your training, we recommend ordering 3 Observer Feedback Forms for each individual learner (print version only).
The Starter Kit is a great way to begin your rollout and includes a Facilitator Guide, 5 Print Participant Guides or 5 Online Assessments, and 15 Observer Feedback Forms. Additional Participant Guides or Online Assessment credits may be purchased separately. Purchasing all of the participant materials you need at one time may qualify you for quantity discounts that can save you money and simplify ordering.
If you are new to this product we highly recommend HRDQ QuickStart Training, whether you are a novice trainer or a seasoned facilitator. It's an excellent way to quickly get up to speed on the product so you can step into your first training class with confidence.  Personalized, one-on-one telephone coaching is provided at your convenience. Our subject matter experts will review the program with you, offer ideas for tailoring the program to your specific needs, discuss typical participant questions and reactions, and more. 

Ongoing Training
 
Each time you administer the assessment you will need to order a new Print or Online Assessment for each individual. Quantity discounts begin at 50 units per order.  Additional Facilitator Guides are also available for individual purchase if you have additional trainers or require a new copy.

Related Products
Flight From Savo
Author
Eileen M. Russo, PhD
Contributors: Kate Wartchow, PhD and Cathy J. Proviano, MEd