Stepping Up: A Road Map for New Supervisors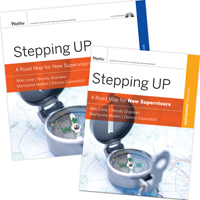 Stepping Up is a management development training program for new supervisors, managers, and leaders. The program offers a basic understanding of the roles, responsibilities, and expectations required to be successful, and it guides supervisors in developing an actionable plan for personal growth.
Statistics show that only 60% of new supervisors are successful. So what happens to the other 40%? They're either fired for lack of performance or step down from the position voluntarily. Problem is, not many new or aspiring supervisors have any idea of what is expected of them – or what it takes to lead others. So how can you as a trainer improve the odds of success?
Stepping Up provides new supervisors with an accurate picture of what it truly means to be a supervisor. This one-day workshop takes a different angle than most supervisory training programs. Rather than focusing on typical day-to-day tasks such as planning, budgeting, and problem solving, Stepping Up targets people skills as the foundation for success.
Learning Outcomes
Understand the scope of the supervisory role

Develop the skills that are required to be a supervisor

Learn what principles are needed to build credibility

Discover the real-life concerns, challenges, and pitfalls of being a supervisor

Create an action-oriented decision-making performance model
Theory and Development
Stepping Up is based on three decades of professional contacts with supervisors. Over the years, the authors interviewed and job-shadowed countless numbers of supervisors in their own work environments in all industry sectors. The interviews had a common message that led the authors to two important conclusions. First, much of the success of organizations can be directly linked to the efforts of first-line supervisors. And second, organizational success is dependent upon supervisors possessing the right skill-set, mind-set, and commitment to excellence. Stepping Up was designed with this research and conclusions in mind.
Uses for the Program
Stepping Up is an excellent starting point for supervisors who are new to their role. It has many applications for supervisory training, including:
A standalone training program for new and inexperienced supervisors

Part of a larger supervisory-skills training initiative

Preparation for aspiring supervisors or those considering a supervisory role
How It Works
Stepping Up is intended for a classroom training environment. It includes all of the materials facilitators need to deliver a full-day program.
The comprehensive Facilitator Guide is fully scripted and comes complete with PowerPoint slides, supporting materials, and a CD-ROM. While Stepping Up is considered ready-to-use, there are ample opportunities for trainers to customize the program to meet specific objectives.
Supervisors will appreciate the accompanying Participant Workbook. It is an excellent takeaway that includes a skills-based self assessment, development worksheets and strategies, and a customizable action plan for personal growth.
Initial Rollout
 
You will need to order a Facilitator Guide per trainer, plus one Participant Workbook for each individual learner. Purchasing all of the participant materials you need at one time may qualify you for quantity discounts that can save you money and simplify ordering.
Ongoing Training

Each time you administer the simulation, you will need to order a new Participant Workbook for each individual. Quantity discounts begin at 50 units per order. Additional Facilitator Guides are also available for individual purchase if you have additional trainers or require a new copy.
Related Products

Leading Success

Flight From Savo
Authors

Miki Lane
Marilynne Malkin
Wendy Shanken
Dennis Cavendish
Copyright 2009 4D Training Resources. All rights reserved.
Please read our
Privacy Policy