Trust: The Ultimate Assessment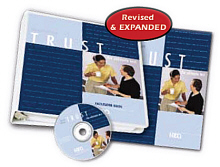 Trust. It's the essential foundation of every relationship. And, in an organization, trust is fundamental — particularly given trends such as job-sharing, telecommuting, and virtual teams. The concept seems so simple, but how do you train on trust?

Trust: The Ultimate Test Second Edition is a powerful tool for helping facilitators explore this sensitive issue — without arousing defensiveness. There simply is no other product like it available today. Through Trust's 24-item assessment and its insight on the dimensions of trust-related behaviors, participants find a deeper understanding of trust, which they can apply to their individual, team, and organizational relationships.
Learning Outcomes
Identify one's individual tendency to trust
Understand the factors that affect the decision to trust
Discover 4 groups of behavior that indicate trust
Learn how to improve one's trust level
Theory
Based on the elements of trust described by Mayer and others and a review of the research on trust, the evidence of trust in people's behavior can be distilled into 4 distinct areas. These 4 areas constitute the 4 dimensions measured by the Trust self-assessment:
Evidence of Lack of Monitoring
Evidence of Benevolence
Evidence of Openness
Evidence of Risk Taking
Uses for Trust – The Ultimate Test
Trust – The Ultimate Test is appropriate to use with individuals as well as teams. The assessment is particularly helpful for these situations:
One or more low-trust relationships are hurting an entire team's productivity.
You want to provide intensive, one-on-one coaching for leaders.
Two peers need to address the issue of trust in their relationship.
You want to assess readiness for alternative work arrangements, such as telecommuting.
The instrument is effective when used as a stand-alone instrument as well as a component of a larger training program.     
Related Products