Exploring Personal Styles Activity Collection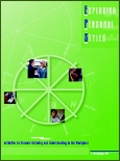 The perfect follow-up to any personality-style training, Exploring Personal Styles (EPS) helps participants learn to accept and appreciate their differences. With over 30 activities ranging from light and easy-going to more in-depth, this Jungian-inspired collection generates compelling group discussions and insight into the unique qualities of each personality dimension.

Exploring Personal Styles offers workshop designs ranging from 1 to 5 hours in length plus suggestions to create a longer workshop. EPS is a versatile tool to meet training needs big and small. Extensive guidelines help you choose the activities and the format that are right for your audience.
 
Uses for Exploring Personal Styles

The Exploring Personal Styles collection is a powerful way to maximize learning about personality styles, particularly when used with the Personal Style Inventory. With a variety of workshop designs, the collection is designed to work within any timeframe and address any level of training need.

Participants will learn:

   - New ways of approaching and dealing with others
   - How to capitalize on their own and others' strengths
   - The real sources of their irritation with others' personalities
   - How to recognize and curb the temptation to judge or criticize

 
Product Contents

   - Background information including goals of the workshops,
     The Listening/Understanding Mode, Jungian typology, and more
   - Suggested workshop designs (1-hour, 2-hour, 3-hour, 4-hour, and 5-hour)
   - Guide to Selecting Activities
   - Pre-workshop preparation guidelines
   - Quick Reference Guide to the Activities
   - Purpose statements for each activity
   - Step-by-step facilitator guidelines
   - Reproducible participant handouts for discussion during sessions
   - Listing of 1-hour nonthreatening activities, activities requiring some disclosure,
     and those requiring a comfortable, trusting group

    Activities include:
- Workshop Objectives
- Icebreaker 1: Draw a Picture of Your Style
- Icebreaker 2: Style Strengths Needed in My Position
- Reviewing Scores and Styles
- Listening/Understanding/and Explaining/Answering
- How People with Different Styles React to Situations
- How Managers with Different Styles React to Situations
- Strengths and Weaknesses of Different Styles
- How the Different Styles Cause Misunderstandings and Conflicts
(Long Version)
- How the Different Styles Cause Misunderstandings and Conflicts
(Short Version)
- Adapting to the Needs of Different Styles
- Using the Strengths of People with Different Styles
- Debriefing the Workshop
- Comparing Strengths and Weaknesses in Daily Interactions
- Using the Strengths of the Other Dimensions
- Building a Team by Examining its Strengths and Weaknesses
- Seeing Ourselves as Others See Us
- Behave Yourself
- Picture This
- The Many Dimensions of My Job
- The Many Sides of My Personality
- Mutual Admiration Society
- Famous People?s Styles Trivia
- A Generic Discussion
- A Family Portrait
- A Family Affair
- Creating the Perfect Team or Department #1
- Creating the Perfect Team or Department #2
- I Love a Good Mystery
- I Wish I Could Be More?
- If the Shoe Fits?
- Voicing Some Reservations
- I Wish I Weren?t So?