Becoming a Customer Service Star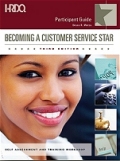 Don't just talk about providing better customer service – make it a reality! Becoming a Customer Service Star helps both employees and managers examine their attitudes about customer service in 5 critical areas:

• Having a positive attitude toward customers
• Encouraging customer feedback
• Responding to customer problems
• Developing repeat relationships
• Seeking to exceed customer expectations

The assessment can be used to measure individual performance, build a service team, or identify changes needed in policies or operating procedures. Becoming a Customer Service Star is appropriate for anyone who has contact with customers.

Learning Outcomes:
• Create a profile of individual customer service strengths and weaknesses
• Recognize the opportunities to improve customer service and retention
• Identify an individual action plan to enhance service in the 5 key areas
Copyright 2009 4D Training Resources. All rights reserved.
Please read our
Privacy Policy