Workshops & Assessments
Activities
Reproducible Programs
Learn Techniques to Enhance Development of Creativity and Innovation
Some workplaces seem to sprout many ideas, patents, new products and better ways of doing everyday activities whereas others have less of a sense of how to reinvent and renew themselves over time. What is it that makes strong cultures successful in creating high performance amidst massive change?
Innovation and creativity must be embedded in the values, structures, and systems of an organization. These things are consciously or unconsciously communicated by leaders to their employees in their day to day activities. Recent literature suggests that innovation and creativity fall into two basic areas: advice on what the individual can do to become more creative and how organizations can build a more innovative culture that maximizes success in times of rapid change.
4D Training provides organizations interested in building a culture of creativity and innovation with several options:
Resources for Internal Trainers/Facilitators
You're an experienced facilitator and looking for ways to introduce an experiential component to an existing program or you would like to introduce a new program. We have solutions ranging from quick profile assessments to one - three hour workshops or multi-day programs. All assessments and workshops come complete with Facilitator Guide, PowerPoint slides, as well as a Takeaway Participant Guide.
Experienced External Facilitators
You're responsible for developing people within your organization. You see a fit with a specific program or set of programs offered by 4D Training Resources and a desired outcome. Your preference is to bring a facilitator experienced in delivering these programs into your organization.
Custom Course Design
Your charged with identifying opportunities to achieve organziational goals through development of its human resources. You would like to use one of these programs as a foundation for building an internal training intitiative.
If one of these options describes your needs, call us at 1-800-257-4916.
Creativity & Innovation Skills - Assessments/Workshops
Off-the-Shelf or Facilitator-led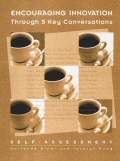 Encouraging Innovation Through 5 Key Conversations
Can be use for a 2 hour workshop and/or individual feedback
Encouraging Innovation Through 5 Key Conversations is a 30-item assessment tool designed to help managers measure their skill in fostering innovation in their employees. Using the response key, participants are asked to read each statement carefully and decide to what extent they practice the behavior described.
Breakthrough Creativity Profile
Can be use for a 2 hour workshop and/or individual feedback
The Breakthrough Creativity Profile by creativity expert Dr. Lynne Levesque is based on a well-grounded theory and the personality research of Carl Jung. The 16-item assessment reveals one's dominant and auxiliary preferences among the 8 creative talents and helps individuals define what is needed to achieve their creative best.
58½ Ways to Improvise in Training
Can be used for activities that range from 5 minutes to 1 hour
58½ Ways to Improvise in Training is more than just simply a collection of icebreakers. The activities are designed to be useful on a number of different levels. You'll find that physical activities not only warm up the limbs, they also break down barriers between participants. Some activities build skills - often by increasing ways for participants to express themselves. And by using the questions provided in the debriefing section, you can always create a link between the activity and the learning experience on a metaphorical level.
Download - Customize - Reproduce
Affordable Materials for Soft Skills Training
Complete training materials in a customizable, reproducible file format. Introducing the Reproducible Training Resource Library, a collection of customizable and reproducible programs. Each program comes ready to train, complete with a Participant Guide, Facilitator Guide, and PowerPoint® presentation. Titles are half to full-day programs on the topics you need to deliver today. The simple click-thru license agreement allows you to use the content within your organization on an unlimited basis.
Buy any individual program for $399 or all 80 programs for $7,500. Learn more about these Reproducible Training Programs or call 1-800-257-4916 to order.